Poetry and Journal Therapy/ Training
The most creative act you will ever undertake is the act of creating yourself.
– Deepak Chopra
Since ancient times, language has possessed the power to heal. Therapeutic writing is my most-often used resource in helping others and it is also what has been most helpful to me personally and inspired me to enter this field.
An increasing body of research, both qualitative and quantitative, supports the fact that expressive writing has health and mental health benefits (see the works of James Pennebaker).
Therapeutic Writing can be help you to:
Reduce your stress response.
Integrate your thoughts, feelings and body awareness about a particular issue, thereby often speeding recovery.
Increase your problem solving ability by examining things from multiple angles.
Discover metaphors to express what has before felt "inexpressible."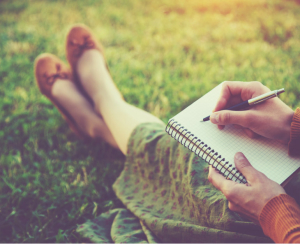 Poetry therapy is the use of language, symbol and story in a therapeutic, educational, growth or community building capacity (see www.poetrytherapy.org for more information).
Journal therapy is the intentional and purposeful use of reflective writing to further physical, emotional, spiritual or mental well-being by allowing the writer to focus on his or her internal experience of events, thereby further integrating and processing them (see Kathleen Adams' www.journaltherapy.com for more information).
Poetry, lyrics and stories can use language that is more abstract and therefore helpful in safely expressing matters that are private.  Disclosing, reflecting upon and often transforming upsetting events through the process of writing and with a trained facilitator, offers symptom relief for a variety of concerns.
You may choose to work with me individually or to join a group or workshop.
Contact me to experience for yourself the healing power of poetry, journaling and story!
Training in Poetry and Journal Therapy
Want to become trained to help others with the healing power of writing?
Curious about what it means to be a poetry or journal facilitator or therapist?
Do you enjoy teaching and providing workshops and would like to learn how to add therapeutic writing to your business?
Poetry and journal facilitators and therapists are employed in a variety of educational, medical, community and mental health settings around the globe.
I am an approved trainer through the International Federation of Biblio-Poetry Therapy (and soon to be journal therapy) for both poetry and journal therapy and can train students at any of the facilitator or therapeutic credentialing levels  (CAPF, CPT, PTR for poetry and soon for CJF or CJT for journal work).  Please see www.ifbpt.org and www.twinstitute.net for additional program information.
Call or write me to start your training process!
Consultation
Perhaps you can't commit to training but you'd still like to learn more or add to your skill?
I provide consultation to individuals, institutions and agencies about how to integrate the use of therapeutic writing into their programming or to design a special sequence for a given population.  Contact me to book a planning meeting.
Restore Your Creativity, Wellness and Balance
Work with me and change your story, change your metaphors and change your life!
(914) 572-3167