Expressive Therapies and Writing Peer Groups
Everywhere I go, I find a poet has been there before me. – Sigmund Freud
Monthly Writing Peer Group
Do you enjoy words and reading poetry or stories?
Do you like expressing yourself to others in a supportive atmosphere?
Maybe you like to write or journal but don't want to do it all alone?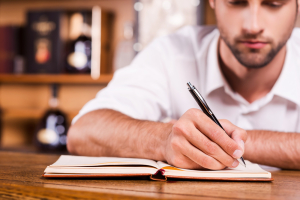 Join us for our monthly peer group meeting where we share selected readings, write in response to suggested prompts and enjoy one another's work, all in accordance with your comfort level.  You do NOT need to be an experienced writer to attend!
Many interested in writing feel isolated by their craft or have difficulty finding the "right audience" for their creative energies.
You may come once or become a regular attendee. This is a community group, not a therapy group, though the experience may have therapeutic benefits.
Meetings are available in both Westchester and Danbury locations.
Please contact me for schedule and registration information.
Expressive Therapy Groups 
Would you like to try a group therapy experience that's not "just talking?"
Are you curious about the methods of psychodrama or "telling a story" in action?
Would you enjoy "trying out" journaling, drawing and music to deepen your personal work?
Join one of my expressive therapy groups (individual sessions are available as well) and discover first-hand the benefits of experiential methods!
Groups are currently meeting and forming in Danbury, CT,  Mt. Kisco, NY  and  Rhinebeck, NY.
Contact me for a screening interview and for group schedule.
Restore Your Creativity, Wellness and Balance
Work with me and change your story, change your metaphors and change your life!
(914) 572-3167